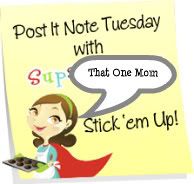 Welcome back to Post-It Note Tuesday. As of today, Only Parent Chronicles has taken over the reigns of PINT. Everything will remain the same, except who is hosting it. We would LOVE for you to join us, so please head on over and link up. It is really lots of fun!



Thanks for stopping by. I've been trying my best to post as often as I can, but I am truly not doing well. I don't think things have ever been this bad with my illness, except when I've had an infection in my port. However, this seems totally different from that. I have an appointment with my doctor on Thursday to see if we can get to the bottom of what is going on. The pain I've been experiencing is almost intolerable at times and I've very rarely been able to get out of bed over the last month. I hope you will continue to keep me in your prayers. I cherish every single one of them.

I hope each of you are having a fabulous week.