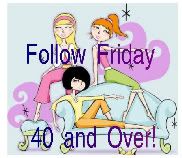 Hi Everyone,

I really didn't feel much like posting today, but then I learned that I am the 'Featured Blogger' today on Java's 'FOLLOW FRIDAY 40 & OVER', which just so happens to be my absolute favorite Friday Follow blog hop...so I just HAD to tell you!! :o)

I have participated in a TON of these, but so far, Java's is my favorite for several reasons. 1) I have thoroughly enjoyed finding, and getting to know, other women bloggers who are close to my same age, 2) there aren't a ton of rules to follow AND 3) Java is one of the sweetest and most beautiful women, on the inside AND out, that you will ever meet!!

In addition to my feature, Java also announced today that each featured blogger who does not already have a blog button, will receive a button made by her as a special gift!! WOOT!!
Since I did not yet have one, she made one for me!! It is now proudly displayed on my right sidebar and I would be extremely honored if you would grab it and display it on your blog. BTW, I now have a 'Buttons' page. The link can be found at the top of this page. If I do not currently have your button and you want me to display it, please let me know.


I am just thrilled to death to be featured on Java's blog, 'Never Growing Old'. I hope you will hop over there, take a look around and, if you're 40 and over, join in the fun! If you're not old ladies like us, you can still visit!! :0)

I hope you all have a wonderfully blessed weekend!!


P.S. My other favorite is Friendly Friday. You should check that one out, too!