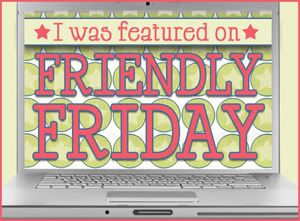 As most of you know, today is Blog Hop Friday all around Blogland. These blog hops are where you can find great new blogs to read, along with new readers and followers for your blog! For me, participating has been an AWESOME way to spread awareness about my illness, DYSAUTONOMIA!
This week, I am so very excited to be a featured blogger at FRIENDLY FRIDAY! Friendly Friday is one of my very favorite blog hops because there are not a lot of rules AND because of the features they do on the loyal participants.
Friendly Friday is hosted by three amazing ladies, Xenia at Thanks, Mail Carrier, Christi at The Frugal Novice and Charla at Healthy Home Blog. Please take a few minutes to check out their blogs and say hello. If you would like to join us for Friendly Friday, just click on the icon above or below this post.
♥~♥~♥~♥~♥~♥~♥~♥~♥~♥~♥~♥

If you're stopping by from any of the blog hops, I'm really glad you're here! I hope you'll grab a cup of coffee and stay awhile so you can take a few minutes to check out my blog!
There is a menu of links across the top of this page for easy navigation. There is the 'About Me' link where, of course, you can go to get to know me a little better. There is also the 'Must Reads' link where you can read some of my favorite and/or most informative posts.
If you like what you see, I'd be extremely honored if you'd 'Follow Me', 'Subscribe', become a 'Fan' of my Facebook Page and/or hit me up on Twitter. I promise to return the favor whatever you do! Please just let me know in the comment section, especially if it is Twitter related. I tend to lose track of things that go on over there if I am having a bad day. :0)
Have a great Friday and happy hopping!!
Blessings,
Teresa